After a bustling winter with an influx of snow and slush, players, skates and spectators, getting your rink ready for spring can be a daunting task. Where do you even begin? The list of to-do's is long and you don't have much time for the thorough cleaning, repair and prep necessary for the season ahead. The good news is, with the right tools and products, you can tackle your list in no time.
Cleaning and Repairing Your Dasher Boards
Hockey season does a number on dasher boards. This spring, you're likely contending with an overwhelming number of puck marks on your dasher facing. Citrusolve and Blue Dash are a couple great products many rink managers use to help make removing puck marks easier. Citrusolve is an all-purpose cleaner that can be used all around the arena. When applied in combination with Blue Dash – a highly abrasive board cleaner – they pack a big punch.
After spraying the solution on your boards, make sure to allow time to let the product do its job. You can then use a cloth or scrub brush to wipe off the marks, but it can be time consuming. Using the Cyclo Polisher gets the job done faster – watch this video to see how quickly marks are removed!
As you clean the boards, be sure to inspect your facing and kickplate. Are any screws loose on the facing or kickplate? Tighten them up for aesthetics as well as for safety. If damaged, consider replacing the dasher facing or kickplate sections altogether.
Once you have cleaned your boards, sealing them with Exceed Board Sealer will keep your boards looking sharp and make future cleaning faster and easier. Use a paint roller to apply two light coats over the entire surface, allowing drying time in between coats.
Cleaning your rink's shielding can be another daunting task to tackle at the end of a busy season. Once puck and tape marks are removed, clean tempered glass using a mixture of dish soap and warm water and sponge or window cleaning tool. Dry the glass using a squeegee or microfiber cloth for a streak-free shine. Not sure how to use a squeegee? Follow these tips from a professional window cleaner.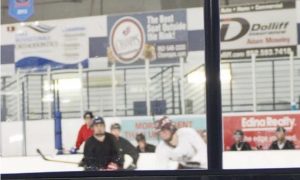 Acrylic shielding requires the extra step of removing dust and debris off the glass to avoid scratching the surface as you are cleaning it. Adding specially formulated cleaners for plastic such as Novus to your soap and water mixture can take care of haziness and remove minor to heavy scratches, leaving a shine that resists fogging and repels dust while eliminating static. Dry your acrylic shielding by blotting instead of rubbing the surface to minimize water marks and scratching.
 Cleaning Throughout Your Facility
Puck Off
is a product many of our customers love to use throughout their facility. This all-purpose cleaner is not only for use on dasher facing, caprail, and kickplate but on tempered glass and acrylic shielding, vinyl pads, Lexan signage covers, and painted walls. Keeping bottles of Puck Off handy to use throughout the season can minimize end-of-the-season cleaning efforts.
If you're looking for a quick and easy way to remove dirt, grime, and puck marks throughout your rink, PuckMark Erasers are just the ticket. Simply wet and rub the eraser gently to clean the area. If using on a painted surface, test on an inconspicuous area first.
What other tips do you have that help get your spring rink cleaning to-do list done?