In this buyers guide, we will help you choose the right floor for your facility, help you choose the best installation method for your project and provide you with tips for maintaining your floor to keep it looking newer longer.
Selection
Floor covering is often a major financial component of your renovation or new construction project so proper planning is crucial.  Begin by determining a budget. We suggest you list out each room/area, its purpose and its total square footage.  Does it need to be aesthetic or purely functional? How long does the flooring need to last? Always inquire about the warranty.
When selecting flooring for a lobby, locker-room or weight room, most facilities install some type of resilient rubber flooring.  In areas used for fitness, it is important to install antimicrobial flooring to inhibit the spread of germs.
Where there is skate traffic or heavy foot traffic, choose a rubber flooring that is dense and durable. It should be cut, dent and slip-resistant.  It should also be non-absorbent and easy to clean.
The decision to loose lay or glue down flooring may depend on your application.  Most indoor ice rinks glue down their flooring.  Benefits of gluing down flooring include both immobility and the inability for moisture to sneak underneath.  If you have an area that is multipurpose, you may want to consider a loose lay or interlocking application so the floor can be easily pulled up and stored.
With so many color and surface options available, designing your floor can be fun!  Consider inlaid logos to represent your facility name or team mascot.
Installation
According to Northwest Rubber, the installation of any resilient rubber flooring is only as good as the subfloor underneath.  This is especially true when the flooring is glued down.  Rough and uneven subfloor can diminish the appearance of new flooring by giving it an uneven appearance and in the end it can decrease its lifespan. For concrete floors specifically it is vital that a moisture test be completed prior to floor installation to ensure proper bonding. Moisture tests must be taken on nearly all concrete floors regardless of age and grade level.  Always check with the manufacturer to see what their testing and floor preparation requirements are before you schedule your installation.
According to Concretemoisture.com, retaining moisture in concrete ensures proper curing. However, what if you must install finished flooring materials requiring low concrete relative humidity (RH)? The drying process can be slow and contractors often find themselves in conflict with construction schedules. Under these schedule pressures, finished floor surfaces are sometimes installed when the concrete's RH is too high, resulting in expensive testing, repairs and even legal action.
There are several ways to reduce moisture problems in floor slabs during construction
utilize a quick-dry concrete mix
install subgrade vapor barriers that prevent moisture intrusion from below
implement finishing techniques that keep the surface open while drying
After construction – and as a last resort – low permeability surface membranes can be used to seal in the moisture.
Maintenance
The fact that rubber flooring is both highly-durable and easy to maintain makes it an attractive choice and a good maintenance program will help retain  your floor's color and increase its lifespan.  Keeping the floor clean is relatively easy.Most manufacturers suggest daily vacuuming to remove dirt and debris from the floor's surface and weekly mopping with water or a manufacturer-suggested cleaner.  If you do use a cleaner always make sure you thoroughly rinse the floor afterwards. Insufficient rinsing can lead to the accumulation of soap residue.  A heavier cleaning may be a good idea once a year (or perhaps more often depending on your traffic). This is usually accomplished with a  a rotary buffing machine.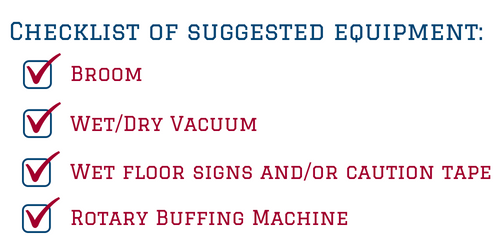 Becker Arena Products, Inc. has been providing protective flooring to ice rinks and multi-recreational facilities since 1988.  If you would like to discuss your upcoming flooring project we would love to hear from you.  We can be reached at 800-234-5522 or you can visit our website at www.beckerarena.com.